Hiding behind a very silly title is one of the most consistently solid and enjoyable series to make the jump from light novels to anime. Based on the books written by Fujino Ōmori, Is It Wrong to Try to Pick Up Girls in a Dungeon? is about to embark on the second half of its fourth season, adding to its already rich franchise that consists of spin-offs, video games, and manga adaptations. As you might guess, this means that there is an increasingly deep body of lore associated with the story and its characters; many of these also owe a lot to world mythologies, only adding to the sheer amount. This is a good time to step back and remember what's come before and who everybody is, especially since the new season stands to dig deeper into pasts that have previously been left largely to our imaginations.
©Fujino Ōmori, SB Creative/DanMachi 4 Production Committee

The story takes place in the fantasy city of Orario. The city has two notable features: a tall tower rising from its center and a deep dungeon extending below its surface. The latter is the primary draw that brings people to the city; hunting the monsters and gathering the spoils of exploration is big business. Adventurers form bands known as Familias, each headed by a god or goddess descended to earth to interact with their "children." These gods come from a wide variety of mythologies; both Greek and Roman are represented, as well as Hindu, Norse, Celtic, and Babylonian pantheons. Each Familia is primarily tailored to the god who heads it, and there can be a huge disparity between their power levels. We enter the story with eager young adventurer Bell Cranel, who has come to Orario from the countryside where he lived with his grandfather. After being rejected from most of the major Familias, Bell meets Hestia, the Greek goddess of the hearth. Bell and Hestia team up, and it is quickly revealed that Bell harbors astounding talent. As they grow their Familia, other gods cannot resist getting involved for reasons of their own; Hermes, the Greek trickster god, and Norse goddess of beauty Freya, both have a decided interest in Bell. Freya is worth keeping in the back of your mind; should the series get further seasons, she will be someone to remember. At the moment, Hermes is a little more relevant – it was revealed in previous seasons that he is very much working to fulfill his own goals and rules about messing with other gods' children be damned.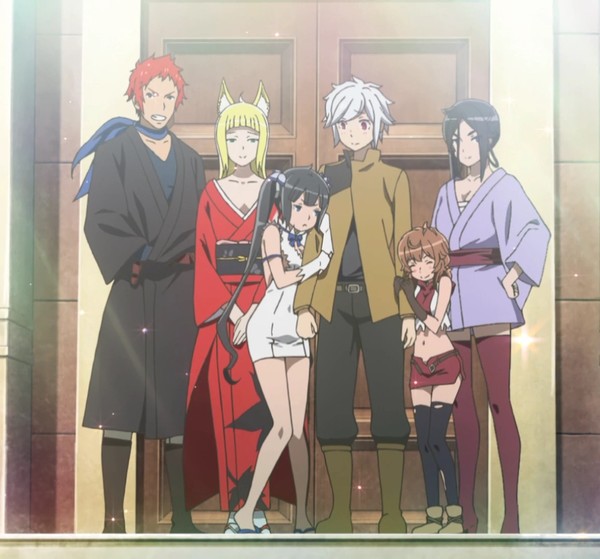 ©Fujino Ōmori, SB Creative/DanMachi 4 Production Committee

Several Familias play an essential role in the story up to this point. They are:
Loki Familia: led by the gender-swapped Norse trickster god (which isn't that weird if you think about the myths), Loki Familia is one of the strongest Familias in Orario. It is captained by Finn, a prum, who is himself lifted from Irish mythology. Finn has a vested interest in repairing the damage done to his race's reputation, and he's keeping a relatively close eye on Hestia Familia both because of Bell's skills and because their supporter Lily is also a prum; in an unadapted short story, he proposes to her. Also noteworthy is that Ais Wallenstein, Bell's personal hero, is a member of Loki Familia. Ais helps Bell train despite how unusual (or unorthodox) it is to help out someone from another Familia in this way, and she has somewhat unwittingly formed a friendship with him. However, she only sometimes recognizes it for what it is. Loki Familia also has its own spinoff series of light novels, Sword Oratoria, that received a one-season anime adaptation that did not do it justice.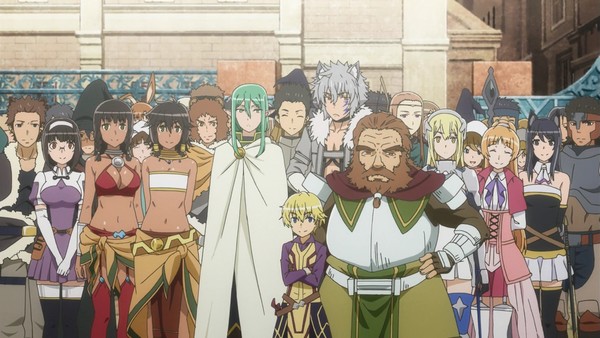 ©Fujino Ōmori, SB Creative/DanMachi 4 Production Committee

Apollo Familia: led by the Greek god Apollo, this Familia went up against Hestia Familia in season two of the anime. Hestia Familia was able to defeat them against all the odds, and in losing, Apollo was sent back to the heavens. The Hestia Familia was able to take over one of his bases, which they desperately needed. A central plot point of the second season, Apollo Familia is noteworthy for two of its members, who joined another Familia after his return to the heavens: Daphne and Cassandra. While both come from classical mythology, Cassandra is significant because she has the same power of prophecy in this story as in the original tale of the Trojan War – a power, you may recall, that is rarely, if ever, believed. After the dissolution of Apollo Familia, Daphne and Cassandra become sometime allies of Hestia Familia and are, in fact, on a mission with them in the dungeon when the second half of season four begins.
Takemikazuchi Familia: Hestia Familia's closest ally, Takemikazuchi hails from the Shinto pantheon, and most of his children came with him from the story's in world version of Japan to Orario. During season one, they inadvertently led a group of monsters straight to Hestia Familia in the dungeon; they have felt guilty about this ever since, and one of their members, Mikoto, ends up switching Familias out of a sense of obligation. This quickly is dispersed as she comes to love being in Hestia Familia; adding in the fact that she still works closely with her previous Familia makes this a relatively painless transition for her.


©Fujino Ōmori, SB Creative/DanMachi 4 Production Committee

Ishtar Familia: the other antagonists of season two, Ishtar Familia works out of the pleasure district, mainly because the theory of sacred prostitution in the cult of Ishtar in the ancient world had not yet been officially disproven when Omori wrote the novel this storyline came from. Most members of Ishtar Familia appear to be Amazons, an in-world race of strictly female warriors. One exception is Haruhime, a renart, or fox woman, from the same country as Mikoto and Takemikazuchi. Ishtar Familia needs Haruhime for a very specific ritual, and they have made her believe that she has been engaging in sex work against her will. When Bell discovers Haruhime in Ishtar Familia's clutches, her friends from back home are horrified, and the two Familias team up to free her. They succeed, and Haruhime joins Hestia Familia while Ishtar is unceremoniously deported back to the heavens. Also worth noting is the presence of Aisha in Ishtar Familia; after its forced dissolution, she does join another Familia but remains a staunch ally of Hestia Familia due to her fondness for Haruhime; she is also present in the dungeon when the second half of season four begins.
Apart from Bell, almost all of Hestia Familia members have come from somewhere else. The remaining members initially offered to work with Hestia Familia before eventually joining up with them more officially. They are:


©Fujino Ōmori, SB Creative/DanMachi 4 Production Committee

Lililuca Erde:
Lily initially joined up with Bell for less than noble reasons – she was working a series of grifts to buy her way out of the Familia she was born into; some are familiar. Soma, a god from the Hindu pantheon whose name may be more familiar to readers of Aldous Huxley's
Brave New World
, is a god who doesn't particularly care about his children. In his emotional absence, Lily was very badly treated. She escaped but wasn't free, leading to an impressive show of her strength of will when she finally challenges Soma in a bid to leave his Familia and join Hestia's. Lily is, in many ways, the definition of big things coming in small packages – as the series has gone on, she has transitioned from being a frightened girl who puts on a good show to be a genuinely strong person in her own right, more than deserving of her position as Bell's right hand. Lily is very much the brains of the operation, and when we last saw her in the first half of season four, she was making great strides into becoming a true leader. Like several other characters, she has a crush on Bell; this mostly comes out in brief displays of jealousy, and she's generally very good at not letting it affect her work.
Welf Crozzo: Welf originated in Hephaistos Familia, and as that suggests, he is a smith. Welf comes from a long line of magic sword crafters, and while he can make them, it's not the focus of his work; he is more interested overall in making the best weapons and armor he possibly can. Although he was happy in his initial Familia, he joined Hestia's group to keep working alongside Bell and Lily. He has yet to have the character development that Lily has, but he is still a vital part of the group as both a strong fighter and as the Familia's in-home smith. He's also Bell's best guy friend, something that is in short supply in this series.
Of the characters not associated with any of the major Familias in this story, two are of particular importance right now; another, Syr, is someone you want to keep an eye on if we get more seasons.
Eina Tulle is Bell's contact at the Guild, the organizing body that functions as the government of Orario and the support system for adventurers delving into the dungeon. Half-elf Eina has been keeping a close eye on Bell since he first came to Orario roughly six months before the period where the story is now. Although she'd probably hate to be described this way, she's basically his big sister, worrying over him and advising him to keep him safe and sound in his dangerous line of work. She is stern and supportive, instrumental at sounding the alarm on the surface when things do not go as scheduled.


©Fujino Ōmori, SB Creative/DanMachi 4 Production Committee
©WFS Developed by WRIGHT FLYER STUDIOS

Ryu (or Lyu) Leon is the most crucial character to pay attention to leading up to this new set of episodes. She was (and technically still is) a member of Astraea Familia, an all-female Familia led by the Greek goddess of the stars. Several years ago, they were caught up in a trap laid by a group known as the Evils, and Ryu was the only survivor. To say that she still suffers from this loss is to understate the matter; she mostly spends her time burdened by crippling survivors' guilt while working at the tavern, The Benevolent Mistress, where Syr also works. Bell has been able to break through some of her reserve, and she has reached the point where she now cares about Hestia Familia enough that she is unwilling to allow anything like what happened to Astraea Familia to happen to them. That's what put her in the dungeon in the first half of this season; with the apparent return of the Evils (something that has been in the background since season one), Ryu finds herself unable to stay on the sidelines. She has been instrumental in the action for quite some time, but she's about to be thrown headlong into her past trauma. If the second half of season four does the source material any justice, you should have your box of tissues ready.
Finally, the last group you need to be aware of is the Xenos. They were the focus of season three, a group of monsters from the dungeon who are self-aware and have the intelligence of humans. Initially, only Hestia Familia was willing to accept them as equals, leading to the group becoming persona non grata for all of Orario as they stood up for the monsters in the face of blind prejudice. Prior to their discovery by Hestia Familia, Xenos were known to two other people: Fells, an undead sorcerer, and Ouranos, the god in charge of the Guild and basically everything that goes on in the dungeon. They used Hestia Familia as a way to test the viability of integrating the Xenos with the humans; although it didn't work, Xenos were instrumental in the fight against Thanatos Familia in the man-made labyrinth of Knossos, and members of Loki Familia, such as Finn and Tiona, were forced to rethink their positions. The hardest sell was Ais, and Bell was forced to stand against his hero to protect someone he believed in, the vouivre girl Wiene.


©Fujino Ōmori, SB Creative/DanMachi 4 Production Committee

When the story resumes this January, Bell and Ryu have fallen into the deep levels of the dungeon, a place neither of them is truly equipped to be. The rest of Hestia Familia, Aisha, Daphne, Cassandra, and Takemikazuchi Familia members Ouka and Chigusa remain on the floors above, where they have to face their own dangers while trying to figure out what to do about Bell and Ryu's predicament. There's some question as to whether anyone on the surface is aware of what's going on, and the ever-present threat of Hermes trying to make Bell into the sort of hero he wants is at risk, as always, of complicating the situation. It's one of the darkest chapters of the source novels, and whether they draw it out to cover the complete season's run or move ahead with the subsequent novel storyline remains to be seen. But either way, the characters are about to be tested in new and terrible ways. Hold on to your hats and come along for the ride.
News Summary:
Is It Wrong to Try to Remember What's Going on in a Dungeon?
Check all news and articles from the latest ANIME updates.
Please Subscribe us at Google News.
Denial of responsibility!
Theinspi
is an automatic aggregator around the global media. All the content are available free on Internet. We have just arranged it in one platform for educational purpose only. In each content, the hyperlink to the primary source is specified. All trademarks belong to their rightful owners, all materials to their authors. If you are the owner of the content and do not want us to publish your materials on our website, please contact us by email:
[email protected]
The content will be deleted within 24 hours.