© AIC/Youmex.
What springs to mind when thinking of famous Hollywood movies featuring Artificial Intelligence (AI)? 2001: A Space Odyssey with its psychotic, murderous HAL 9000? The Terminator with Skynet's skeletal, metal monstrosities crushing the feeble human resistance beneath their feet? The Matrix with its machine race keeping humans alive merely as fleshy battery packs? Not exactly fun, fluffy, feel-good tales about our silicon-brained chums.
So what about anime? AI is an integral theme in a wide variety of Japanese animated movies, OVAs, and TV shows, many of which are more upbeat and optimistic in tone compared to the mechanical horrors endemic in Western media. Recent anime like Sing a Bit of Harmony and The Orbital Children are a testament to the popularity and flexibility of stories featuring AI characters.
© Osamu Tezuka/Mushi Production
As with many other anime genres, AI anime originated from visionary mangaka Osamu Tezuka and his early television work. Tetsuwan Atom (known internationally as Astro Boy) was a 1963 black-and-white TV adaptation of Tezuka's 1952 manga. With themes reminiscent of Carlo Collodi's classic novel Pinocchio, Atom is an android built to replace the genius scientist Dr. Tenma's deceased son. Rejected by his father, Atom winds up in a circus (a plot point later "borrowed" in Spielberg's A.I. many years later) before he is eventually taken in by the enormous-nosed Professor Ochanomizu.
Unlike Pinocchio, however, Atom doesn't want to become "a real boy." He embraces his identity as an (albeit humanoid) robot and fights for the sake of his robot brethren and humans alike. His many adventures see him interacting with all kinds of other robots, and in typical Tezuka fashion, even the "enemy" characters' aren't purely evil. Atom himself is a paragon of virtue, and in the final episode (spoilers for a sixty-year-old show), he sacrifices his life to save the Earth. (The original 1963 Astro Boy TV series is available in English on DVD.)
© Hiroshi Fujimoto/Motoo Abiko/Shinei Animation/TV Asahi
Perhaps the next most famous anime AI is Doraemon, a time-traveling, blue, earless robot cat from the future, originating in a 1969 manga and whose adventures were first animated in 1973. From 1979 onwards, Doraemon's appearance on Japanese television has been unbroken in its regularity. A beloved character to generations of Japanese children, Doraemon is a truly benign example of artificial intelligence. The Doraemon anime has a storied history in English. While the original 1973 series is considered chiefly lost, the 1979 series was dubbed in English under the title The Adventures of Albert and Sidney and aired exclusively in Barbados. Another English dub aired in Singapore. The more recent series began in 2005 and aired on Disney XD as Doraemon: Gadget Cat From the Future from 2014 to 2017.
© A.P.P.P.
No discussion of AI in anime would be complete without at least mentioning 1987's Robot Carnival, a nine-segment anthology OVA eventually released theatrically in the US in 1991. Each segment is dramatically different from the others, varying in tone from existential horror to whimsy to melancholy to comedy. Featuring directorial and writing contributions from Akira's Katsuhiro Otomo, it's a great way to spend 90 minutes watching a variety of funny/scary/sad robots. (Robot Carnival streams in English on Crunchyroll, PlutoTV, Amazon Prime Video, and other platforms.)
In the late 1980s and early 1990s, there was an explosion of "cyberpunk"-themed anime directly influenced by Philip K. Dick's/Ridley Scott's Blade Runner and William Gibson's Neuromancer. Popular OVAs like Bubblegum Crisis (and the tangentially related AD Police) feature semi-autonomous "boomer" droids in Terminator-esque roles. One of Cyber City Oedo 808's three episodes features a berserk AI that overruns an entire skyscraper, and much violence ensues. Mamoru Oshii's 1995 Ghost in the Shell (the first anime adaptation of Masamune Shirow's at times incomprehensibly dense manga of the same name) takes the Gibson vibes to their logical conclusion with the melding of human and artificial intellects into something approaching godhood. (Bubblegum Crisis, Cyber City Oedo 808, and Ghost in the Shell are all readily available in English on Blu-ray.)
© Hiroaki Satō/PRODUCTION KEY
Two less well-remembered OVA series from the 1990s are the 15-episode Key the Metal Idol and the four-episode Armitage III. Key the Metal Idol is a deeply weird show about a 17-year-old girl android who wishes to become human (again with the Pinocchio inspiration) by becoming an idol singer and gaining 30,000 friends —sounds like an upbeat, whimsical, and fun story, right? No. Key is a dark, dreary, and disturbing show about a teenage girl with a severe identity crisis and an eating disorder. Her true nature is kept frustratingly obscure — is she really an android, or just confused?
Regardless of the heroine's identity, Key features plenty of other robotic monstrosities and cackling anime bad guys to fill out the multiple complicated subplots. Key herself is a passive, naïve character who doesn't mean anyone any harm, though nearby things tend to explode when she gets upset. Definitely a product of its time, Key features unexpectedly brutal violence and frequent nudity. They really don't make them quite like this anymore. The idea of an artificially intelligent idol singer is also integral to the contemporaneously-released Macross Plus. However, that show's insane Sharon Apple isn't exactly the poster girl for benign non-murderous AI. (Key the Metal Idol is available to stream in English on Crunchyroll.)
© AIC/Pioneer LDC
Armitage III is a hard-boiled detective noir heavily influenced by Blade Runner. Set on a colonized Mars, recently transferred human detective Ross Sylibus and his synthetic partner Naomi Armitage investigate the murder of several of Armitage's fellow "thirds" (semi-organic advanced androids with the ability to sexually reproduce — preceding Blade Runner 2049 and Raised by Wolves by 25 years). Armitage's androids are essentially indistinguishable from humans unless grievously damaged, and far from being a threat, they want to live in peace. Later edited into a shorter, more streamlined movie (Polymatrix), the original four OVAs tell Armitage's story in a far more coherent fashion. In contrast, the sequel Dual Matrix is less fondly regarded. (Armitage III is available in English in one DVD collection, including all four OVA episodes and both movies.)
© Bunjuro Nakayama/Bow Ditama/Wani Books/Mahoraba Project
The early 2000s brought the concept of "AI as waifu" to reality with 2001's Mahoromatic and 2002's Chobits. Based on the eight-volume manga by Bunjuro Nakayama and Bow Ditama, Mahoromatic features ex-soldier android Mahoro as she re-deploys herself as a subservient maid to her deceased commander's son. Driven by guilt, she spends the last months of her operational life waiting on bemused teenager Suguru Misato hand and foot while they gradually fall in love. The light-hearted, fanservice-heavy episodes are tinged with melancholy — every installment ends with a gradually diminishing countdown of Mahoro's remaining lifespan.
A weirdly mercurial show, a considerable proportion of Mahoromatic's runtime is spent on boob gags and typical romcom/harem anime tropes. Although the first season's conclusion introduces more serious drama, this is reversed during the mostly very frothy second season before reality crashes down with a deeply depressing, whiplash-inducing "Gainax Ending" that seems like it belongs to a different show. Mahoro's optimistic, self-sacrificial character remains unblemished to the end. Still, its grossly uneven tone makes it a hard show to recommend to either fans of slice-of-life comedies or fans of serious SF drama. (Mahoromatic streams in English on HIDIVE.)
© CLAMP/Madhouse
Chobits is another tonally weird show. Based on the seinen manga by famed female mangaka quartet CLAMP (Card Captor Sakura, xxxHOLiC), Chobits depicts a future society where PCs have evolved into autonomous humanoid "persocoms" that fulfill multiple roles in society. A cross between employees, servants, and carers, persocoms blur the definition between human and machine. When 18-year-old failed student Hideki Motosuwa finds Chi, an apparently discarded, extremely attractive female persocom, in a pile of garbage, he adopts her. He begins teaching her to speak and navigate society.
Chi is a true innocent, with no concept of her identity nor knowledge of her origin. Initially, Hideki acts like her parent, while Chi repeatedly embroils herself in strange situations due to her social awkwardness. The vast majority of episodes are sweet, inconsequential slice-of-life comedies, most prominently in the episode Chi goes on errands, where Chi wanders the streets chanting "Hideki underpants" repeatedly.
Only in the final few episodes does the plot finally kick into gear, with some thematically jarring alterations to the premise. What seemed like a story initially lecturing on the dangers of humans replacing romantic partners with persocoms turns 180 degrees… and then randomly removes any possibility for the central couple to become truly intimate. It's bizarre, and I'm not sure what message the story was ultimately meant to convey. (Chobits is available in English on DVD/Blu-ray and streams on Funimation and Crunchyroll.)
©2009/2010 Yasuhiro Yoshiura/Directions, Inc.
Time of Eve began in 2008 as a six-episode series of web shorts before being compiled into 2010's single movie version. It's a fascinating and thought-provoking collection of vignettes about the patrons at a coffee bar that shares a name with the title. At Time of Eve, humans and humanoid androids can interact without fear of prejudice, and since their identities are kept confidential, they are treated equally. Set against the background of a near-future society where androids are common household servants, the right-wing traditionalist/conservative "Ethics Committee" drums up discontent against androids and their human owners.
Time of Eve is a cerebral, low-intensity thought experiment that feels more like a live-action indie film than a typical anime — idea and atmosphere-driven rather than plot-driven. Various relationships between humans and androids, androids and androids, and humans and humans are explored with nuance and sensitivity. It's a shame it's not twice the length — there's a lot of interesting material to be mined from its simple yet profound concepts. (Time of Eve streams in English on Crunchyroll.)
©2013 Wit Studio
Wit Studio's (Vivy, Ranking of Kings) first theatrical feature was 2013's short and sweet Hal. An anime-original story, it's an examination of grief with a suitably existential ending twist. Set at some point in Japan's future, a work droid is repurposed as a replacement for a deceased person to allow their loved one to begin to grieve. Although the droid appears to be completely autonomous, its desires seem to be wholly subsumed beneath the personality it is tasked to emulate. At only 60 minutes long, Hal is little more than an ephemeral short story that requires more time to explore its themes. The science-fiction aspects take a back seat to the romantic/relationship facets, and the twist ending rewrites the tale's meaning — not necessarily in a good way. (Hal is available in English on Blu-ray and streaming on Funimation.)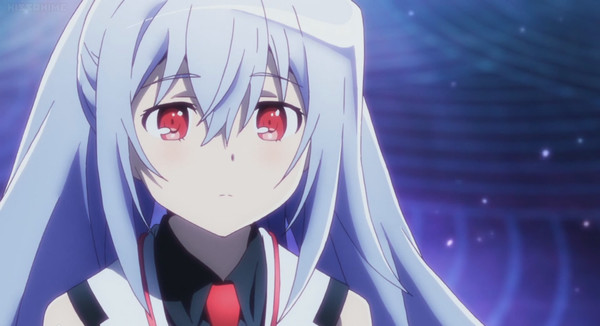 © MAGES./Project PM
At first glance, 2015's Plastic Memories has a fascinating premise. In this world, the very human-like androids ("Giftias") produced by SAI Corp have a hard-wired expiry date, beyond which their artificial brains can store no more memories, their personalities disintegrate, and they risk becoming deranged and violent. SAI Corp's "Terminal Service" branch is tasked with retrieving their customers' Giftias before their scheduled end of service and essentially euthanizing them. The main character Tsukasa joins the Terminal Service, where he is partnered with Isla, a Giftia who, initially unknown to Tsukasa, is reaching the end of her lifespan.
Isla is clumsy and neurotic, though slowly she and Tsukasa stumble towards some kind of romantic relationship. Unfortunately, the show squanders its initial promise on repetitive, outdated, and insipid rom-com hijinks. It eventually tries to squeeze as much pathos as possible from its final goodbye, but this is just "contrived dying girl the anime, but the girl is an android." It's a disappointment ;  I expected more from the writer of Steins;Gate. (Plastic Memories streams in English on Crunchyroll.)
© Satoshi Hase/redjuice/Kadokawa Shoten/diomedéa
With its human-like androids, Beatless appears very similar in premise to Time of Eve, Chobits, or Mahoromatic. Generic anime protagonist Arato Endo's life is saved by a mysterious android (called hIEs, or Humanoid Interface Elements) and obviously takes her home after he agrees to take legal responsibility for her actions as her new owner. Her name is Lacia, she's very beautiful, and Arato is smitten.
Beatless' most interesting idea is that hIEs are attractively designed to "hack" humans — to make them fall in love with them, buy the products they sell, or do what they are told to do. It's an unsettlingly dystopian concept. Lacia warns Arato that she doesn't have a soul… and becomes a fashion model. I'm not sure if that's meant to be satire. Anyway, the central duo is dragged into a battle involving multiple other AIs. While the story takes a long time to start, later episodes explore exciting concepts about the future, morality, and limitations of artificial intelligence. (Beatless streams in English on Amazon Prime.)
© Wit Studio
Adapting its central conceit from Terminator 2, Vivy -Fluorite Eye's Song- replaces a muscle-bound Austrian with Matsumoto, a time-traveling teddy bear who has come from the future to prevent the apocalypse. He recruits Diva, a blue-haired android idol singer with multiple personalities to help him alter history. Nowhere else but in anime, eh?
Vivy's unique spin on artificial intelligence is that androids can only handle one primary role without malfunctioning. Diva has been programmed to "make people happy with her singing," and anything that conflicts with that primary motivation causes severe dissonance. In order to cope with her additional responsibility of saving humanity, she splits her personality and manifests a secondary identity as "Vivy."
Vivy overflows with exciting ideas but never manages to explore them in great depth. Some fantastic action sequences, imagery, and themes highly reminiscent of NieR:Automata make it well worth watching. The ending is mostly satisfying, if a little uncomfortable, regarding Diva's ultimate resolution. (Vivy: Fluorite Eye's Song streams in English on Funimation.)
©2021 Yasuhiro Yoshiura/J.C. Staff
2021's theatrical Sing a Bit of Harmony is a return to the genre from Time of Eve's director Yasuhiro Yoshiura. A comedic high school musical featuring Shion Ashimori, a singing, dancing android obsessed with helping insular schoolgirl Satomi Amano make friends, it's an utterly delightful movie that's definitely the most upbeat anime mentioned here. A particular highlight is the up close and personal song and dance scene where Shion teaches blushing teenage boy Thunder how to win at judo. Shion is such an irrepressible maelstrom of joy that it's easy to see how such an AI might be welcomed into people's personal lives. (Sing a Bit of Harmony was distributed theatrically in English by Funimation and is streaming on Crunchyroll).
©2022 Mitsuo Iso/Production +h.
Finally, stealth-dropped onto Netflix in early 2022, The Orbital Children is a six-part OVA written and directed by Den-noh Coil's Mitsuo Iso. What initially appears to be a Space Camp-style disaster movie about a group of children trapped aboard a commercial space station in decaying orbit later develops into a complex and thought-provoking treatise on the development of a godlike, omniscient AI, and how such an intelligence might view humanity. With heady concepts evoking such literary precedents set by Arthur C. Clarke in Childhood's End and Vernor Vinge's A Fire Upon the Deep, The Orbital Children should in no way be discounted as merely "kids stuff." Fans of the disturbingly dystopian podcast Sayer may get a kick out of this very similar, if significantly less cynical, exploration of a powerful disembodied AI with designs on humanity's future. (The Orbital Children streams in English on Netflix.)
As I hope I have ably demonstrated, anime has a rich and varied history with non-threatening artificial intelligence, with myriad other examples I could have covered. Granted, instead of apocalyptic murderbots, most of the above shows heavily feature sexy female robot waifus and relationship wish-fulfillment, but even these explore profound themes of identity, morality, grief, regret, and more. If you fancy brain-diving into the sea of AI anime, there's more than enough to keep you submerged for a long, long time.
---
Kevin Cormack is a Scottish medical doctor, husband, father, and lifelong anime obsessive. He writes as Doctorkev here and appears regularly on The Official AniTAY Podcast. His accent is real.

News Summary:
Not Every Artificial Intelligence is Out To Kill You: AI in Anime
Check all news and articles from the latest ANIME updates.
Please Subscribe us at Google News.
Denial of responsibility!
Theinspi
is an automatic aggregator around the global media. All the content are available free on Internet. We have just arranged it in one platform for educational purpose only. In each content, the hyperlink to the primary source is specified. All trademarks belong to their rightful owners, all materials to their authors. If you are the owner of the content and do not want us to publish your materials on our website, please contact us by email:
[email protected]
The content will be deleted within 24 hours.