For the past year, residents of New Zealand's Waiheke Island have been finding single sausages, wrapped in bread, left in their letterboxes.
As accusations fly and motives are questioned, victims of The Surfdale Sausager say the mystery is tearing the community apart.
The first sausage arrived in the summer of 2022.
Wrapped in white buttered bread and coated in tomato sauce, it was cold by the time Jacob Coetzee found it in the letterbox, though it looked to have once been barbecued.
Shrugging it off as a likely leftover from a drunken passerby, the teenager biffed it away and gave it no further thought.
Until it happened again. And again. Same sort of sausage, same sauce, same location. And then things got even weirder.
"I sent a picture to my friend group and some of them had been sausaged as well. That's when we realised we had a serial sausager on the island."
That's Waiheke that Coetzee's referring to.
Just a 30-minute boat ride from downtown Auckland, the island's known for providing an elite retreat for the wealthy, a haven for alternative types, as well as the wine from its 30-odd vineyards.
It was also the world's fifth-best region as ranked by Lonely Planet in 2015; where DJ Dimension broke self-isolation rules to become New Zealand's first Omicron community case, and home to a long-empty house recorded as belonging to "His Majesty the King".
It's an unusual place for an unusual mystery, though not the only location to attract a letterbox larrikin. For much of 2016, Blenheim residents received what they thought were low-fat muesli bars in their letterboxes, only to find each wrapper contained a roll of cardboard.
The packaging had been meticulously resealed with glue or sellotape by the cereal prankster, who was never found.
And in 2021, the mysterious do-gooder who'd been leaving money and notes in UK letterboxes finally came forward, confirming to police it was merely a generous act of kindness to spread a bit of cheer.
But back to Waiheke. As reports of letterbox sausages continued to pour in, Coetzee, who lives in the suburb of Surfdale, began investigating.
Many of his mates had also received the small goods and while some members of a local Facebook group wondered whether "sausaging" was a euphemism for something unsavoury, others said it'd happened to them.
Sign up here
to receive our daily newsletters and breaking news alerts, sent straight to your inbox.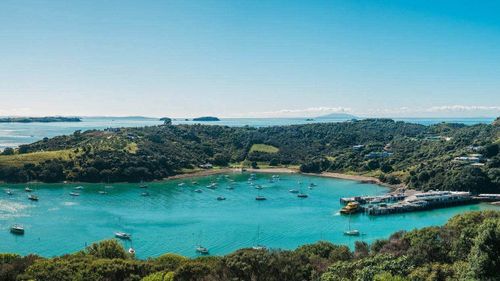 The modus operandi was almost always the same: sausage, white bread, butter and sauce, but the approach was scattergun. Weeks or even months would pass without incident until suddenly, a sausage.
"You never know when the strike will happen but when it does, everyone gets struck" he says.
"It's traumatic. Nobodies' letterboxes are safe."
Once, the sausages came wrapped in brown bread and of late are sans butter; whether that's a nod to the cost of living crisis or the fumbling of a poor copycat Coetzee doesn't know. He does know some local teachers have been targeted: "It's that brazen".
As the number of strikes grew, so did suspicion amongst the residents. Who was The Surfdale Sausager? Was it more than one person? Or even, God forbid, an Aucklander?
"It's ripping us apart; we can't trust one another… I've been accused, my brothers been accused. It's a witch hunt."
The sausages were almost certainly Heller's pre-cooked, and pricing them up at various shops and gas stations, Coetzee found they were cheapest at the local supermarket.
Following questions from Stuff, and despite a "deep dive into the data", a Countdown spokesperson was unable to confirm they'd sold the items, but sent their thoughts to the community.
"We can only imagine the fear that people are living in, not knowing whether today will be the day they will fall victim to The Surfdale Sausager.
"We'll continue to keep a close eye on the small goods section in-store and report any suspicious activity to the relevant authorities."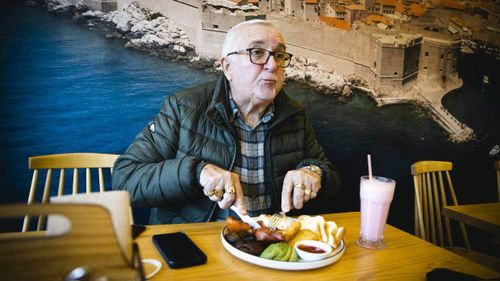 Countdown might have been a dead end, though Coetzee has one more bit of information: "Waiheke is where the Mad Butcher lives. Just saying."
The Mad Butcher, also known as Sir Peter Leitch, is quick to offer up all the reasons why he can't be The Sausager. Firstly, he no longer owns the nationwide franchise; secondly, he still buys his sausages from the stores and, perhaps most importantly, would never biff them away.
"I'm flabbergasted. Sausages aren't cheap to make. I bought some the other day from the Mad Butcher in Auckland, and they tried to give them to me for free, and I said 'I can't do that' so they gave me a discount and even then they were about $20 a kilo; who's buying sausages just to put them in people's letterboxes? Amazing."
Someone still very much in the meat business is Carol Forman who owns the island's Humblepie Village Butchery​. She's cagey when confronted, denying she knows either who's behind the strikes or having heard of them at all.
She does wonder if it might be a promotion for something, adding her sausages are already famous enough and that nobody in their right minds would throw them away.
What she does admit, however, is that her butcher is currently on leave: "I can't vouch for his whereabouts or what he's doing right now, sorry."
Nico Baigent has been hit at least three times, saying while it's not an easy thing to talk about, he wants to both spread awareness of the issue and bring it to an end. The latter can only be done by uncovering who's behind it.
"It is traumatic and I want this to stop. It's been going on for far too long now."
Unlike Forman though, he has a suspect; a friend by the name of Tamaoho Kii Keepa. His evidence is flimsy though he believes it all stacks up.
"When the first people got hit everyone had photos of the sausages; he claimed he'd got hit by The Sausager but didn't have a photo. He's also the only person in our chat group who doesn't live in the suburb."
Baigent is quick to share his mate's phone number, passing on a message to him or anyone else whose behind it all.
"You don't realise the toll it's taking on your victims. Please, no more."
"Hurt and betrayed" is how Kii Keepa describes feeling when Baigent's accusation is put to him, insisting that not only is he not The Sausager but he was the very first of his victims.
"I've found them twice, one in Christmas paper and the other plain. Both times my little sister found them and ran in to the house with them. It's rampant."
He's not surprised his mate has tried to blame him but worries that while the finger-pointing continues The Sausager remains at large. He suspects a guy called Marvin but doesn't have a number for him. Nobody else seems to have a number for Marvin either.
Yet another victim, speaking on the condition of anonymity, says everyone other than him is behind the spree: "I feel a bit left out, actually."
There is, of course, nothing illegal about putting a sausage in someone's letterbox and once they'd stopped laughing a police spokesperson said they'd received no reports of the antics.
Daniel Watson has sent hundreds of anonymous sausages around the country, having co-founded Send a Sausage a few years ago for a bit of a laugh.
Unlike the Surfdale snags, these cost $19.99, are inedible and come vacuum-sealed with an anonymous note. Every purchase sees the company provide a proper meal for someone in need.
Watson should be the best person to shed a bit of light into what sort of person would send someone a sausage, but he's as mystified as everyone else.
"Our clientele is a complete mix. We've had uni students sending them to mates; executive partners to each other; family members to each other. We've had senders from San Francisco and London; there's no pattern."
Sausages are just funny, he says, and the beauty of finding one in your letterbox is there's no point to it at all: "Just a mix of confusion, laughter and a big WTAF?"
And while he denies responsibility, he does have a message for whoever's targeting Waiheke: "Get in contact if you want a real job."
Clinical psychologist Dr Dougal Sutherland says that rather than tearing the community apart, the prankster is more than likely actually doing the opposite.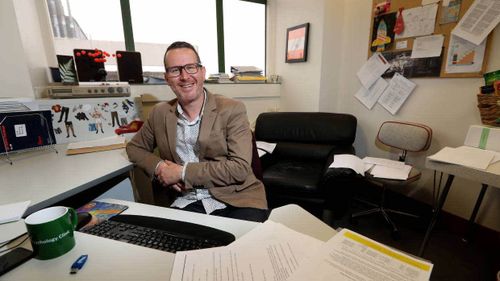 "It's a bit of fun and brings everyone together because they're wrapped up in an antic that seems pretty harmless."
People have long enjoyed a practical joke, especially if it's played on someone else, and a sense of shared mystery is a nice distraction.
"People can talk about it and ask each other 'have you been sausaged yet?', though that could be taken a few ways."
As for the motive? A bit of notoriety and a sense of pulling one over people is probably what's driving the culprit, Sutherland suspects.
"This is someone with a bit of time and money, access to a barbecue, probably not a vegetarian and not particularly health-conscious hence the white bread. We're looking at someone reasonably intelligent and good at hiding."
And while profiling is an inexact science, Sutherland is almost certain of one thing.
"Only a male would put a sausage in a letterbox. Freud would have a field day."
This article has been reproduced with permission from
Stuff.co.nz
.