The speaker of the lower house of Russia's parliament has warned that
countries supplying Ukraine with more powerful weapons
risked their own destruction, a message that followed new pledges of armoured vehicles, air defence systems and other equipment but not the battle tanks Kyiv requested.
Ukraine's
supporters pledged billions of dollars in military aid to Ukraine during a meeting at Ramstein Air Base in Germany on Friday, though the new commitments were overshadowed by a failure to agree on Ukraine's urgent request for German-made Leopard 2 battle tanks.
State Duma Chairman Vyacheslav Volodin, a close ally of President Vladimir Putin, said that governments giving more powerful weapons to Ukraine could cause a "global tragedy that would destroy their countries."
"Supplies of offensive weapons to the Kyiv regime would lead to a global catastrophe," he said. "If Washington and NATO supply weapons that would be used for striking peaceful cities and making attempts to seize our territory as they threaten to do, it would trigger a retaliation with more powerful weapons."
Germany is one of the main donors of weapons to Ukraine, and it ordered a review of its Leopard 2 stocks in preparation for a possible green light. Nonetheless, the government in Berlin has shown caution at each step of increasing its commitments to Ukraine, a hesitancy seen as rooted in its history and political culture.
French President Emmanuel Macron, meanwhile, said on Sunday that he does not rule out sending Leclerc battle tanks to Ukraine and had asked his defence minister to "work on" the idea.
The UK announced earlier this month that it will send Challenger 2 tanks to Ukraine.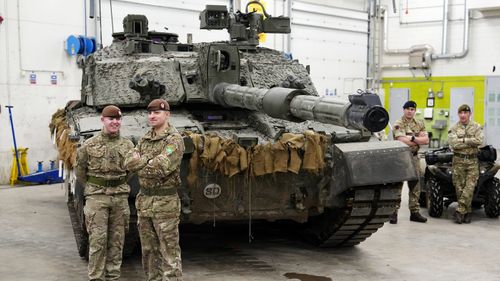 Dmitry Medvedev, the deputy head of the Russian Security Council, said the U.-led meeting at the air base in Germany "left no doubt that our enemies will try to exhaust or better destroy us," adding that "they have enough weapons" to achieve the purpose.
Medvedev, a former Russian president, warned on his messaging app channel that "in case of a protracted conflict," Russia could seek to form a military alliance with "the nations that are fed up with the Americans and a pack of their castrated dogs."
Ukraine is asking for more weapons as it anticipates Russia's forces launching a new offensive in the spring.
Among those calling for more arms for Ukraine was the former British prime minister, Boris Johnson, who made a surprise trip to Ukraine on Sunday.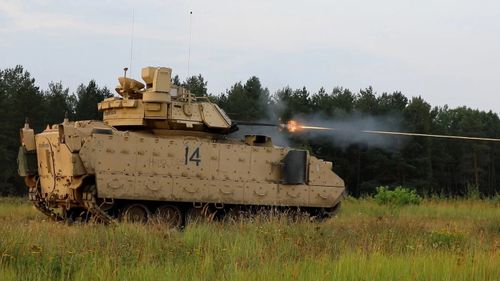 Johnson, who was pictured in the Kyiv region town of Borodyanka, said he travelled to Ukraine at the invitation of President Volodymyr Zelenskyy.
"This is the moment to double down and to give the Ukrainians all the tools they need to finish the job. The sooner Putin fails, the better for Ukraine and for the whole world," Johnson said in a statement.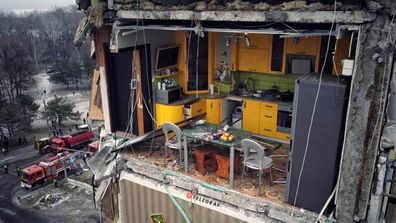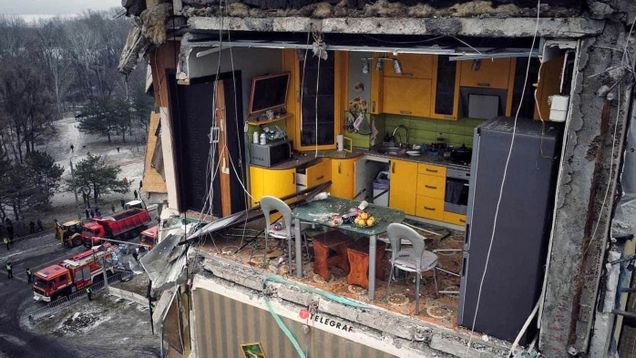 Heartbreak over family kitchen wrecked by Russian missile strike
Sign up here
to receive our daily newsletters and breaking news alerts, sent straight to your inbox.