Bungo Stray Dogs may not be the only example of a story that takes real-world authors and puts them into extraordinary situations, but it is one of the best. (And if you're curious, examples include Jasper Fforde's Thursday Next series and the French comic City Hall.) Its anime version is somewhat unusual in that it incorporates storylines from the manga and light novels, both canonical because the same person, Kafka Asagiri, writes them. Both storytelling formats work in tandem to give us a complete picture of the story's world. Add in the odd alternate universe takes included in the canon, and it's an impressively developed world. In some ways, that makes the anime the easiest way to experience the story; it may not always go as in-depth, but it is at least a single format that makes it more palatable to some consumers. On the downside, its anime schedule has been a bit patchy, with years passing between seasons, so with the new one on the horizon, it's an excellent time to sit down and ensure everyone is on the same page.
ⒸKafka Asagiri・Sango Harukawa/Kadokawa/Bungo Stray Dogs Production Committee

The story's fundamental conceit is that certain people are gifted with Abilities or Skills in an alternate version of Yokohama. These supernatural powers can take various forms, and the main characters are all famous authors from world literature. Their Abilities take names and forms from their real-life bibliographies, so Margaret Mitchell's power is called "Gone With the Wind," and Akutagawa's is "Rashomon." Our main characters are, unsurprisingly, Japanese authors, and most of them belong to one of two groups:


ⒸKafka Asagiri・Sango Harukawa/Kadokawa/Bungo Stray Dogs Production Committee

The Armed Detective Agency is made up of what we consider good guys. Although 19th-century author Yukichi Fukazawa leads them, the most immediately recognizable member is 20th-century author Osamu Dazai. It is Dazai who brings primary protagonist Atsushi Nakajima into the agency – World War Two era author Nakajima is, in this incarnation, a sixteen-year-old orphan who has escaped from his repressive orphanage. When Atsushi encounters Dazai – who is in the middle of one of his frequent suicide attempts (a bit of dark humor when you consider the original Dazai himself), the older man takes him in and arranges for Atsushi to join the detective agency. There he joins forces with a small group made-up of other famous authors, including Jun'ichiro Tanizaki, Edogawa Ranpo, and Doppo Kunikida, as well as someone based on one of Tanizaki's characters, Naomi. The agency's primary antagonists all belong to one group:


ⒸKafka Asagiri・Sango Harukawa/Kadokawa/Bungo Stray Dogs Production Committee

The Port Mafia. The Mafia functions as the flip side of the Agency and is deeply entrenched in the day-to-day running of the shadier side of Yokohama. Mori Ougai leads them, and one of their chief commanding officers is Chuuya Nakahara, who has a big issue with Dazai. Other significant members include Ryūnosuke Akutagawa and Kyōka Izumi. As we get further into the story, we learn there is an impressive amount of give and take between the two groups. Part of that is because Dazai used to belong to the Mafia before switching sides to join the Agency. Nakahara was his partner back in the day, and Akutagawa his student; their issues with Dazai largely stem from feeling abandoned by him. In Akutagawa, this has also translated into a healthy dose of jealousy for the boy he feels replaced him, Atsushi. Season one mostly sees these two groups at each other's throats, but in season two it becomes clear that they are two sides of the same coin when a third group comes to Yokohama looking for something called "The Book."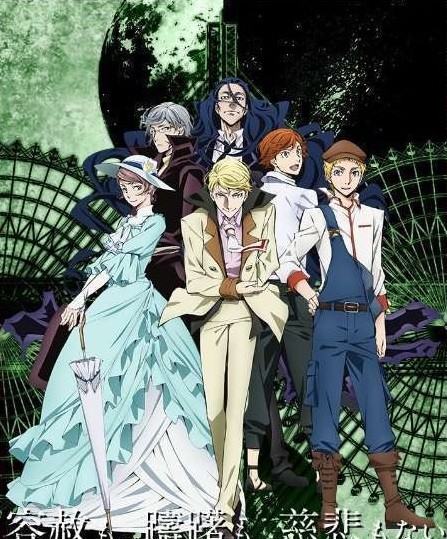 ⒸKafka Asagiri・Sango Harukawa/Kadokawa/Bungo Stray Dogs Production Committee

This new group is called The Guild. It comprises 19th- and 20th-century North American authors, including John Steinbeck, Louisa May Alcott, Nathaniel Hawthorne, and L.M. Montgomery. They are led by F. Scott Fitzgerald and travel on an airship called Moby Dick. (Yes, Herman Melville is another member.) The Guild poses an existential threat not just to the Detective Agency and Mafia but to Yokohama as a whole. Most of the season is devoted to mitigating the threat. They are eventually defeated, and some stick around in Japan, most notably Fitzgerald, Alcott, and Montgomery. Nathaniel Hawthorne stays too, but not in a civilian capacity; he joins the group that becomes the central threat in the anime's third season: The Rats in the House of the Dead.


ⒸKafka Asagiri・Sango Harukawa/Kadokawa/Bungo Stray Dogs Production Committee

The Rats are a particularly vicious group led by 19th-century Russian author Fyodor Dostoyevsky. Part of their larger plan is to force the Agency and the Mafia to destroy each other, and this is when we really see the idea that they are the darkness and light necessary to maintain the status quo of Yokohama come into clarity. They essentially represent the two different ways of doing things. The fact that several members have switched sides – Dazai before the story started and Kyoka in season one – feels more like a question of balance than anything else. When we see the two groups working together, forced by the circumstances, with some bonus help from a few members of the Guild, it feels like the roles of the characters really solidify, which is something that they're desperately going to need when the Hunting Dogs arc starts in the new season.
While every character interaction in this story can be read as significant, there is one that hangs over everything. That is the relationship between Osamu Dazai and Sakunosuke Oda, also known as Odasaku. The two men, along with Ango Sakaguchi, were close friends, often going out to drink at a bar called Lupin, after Maurice Leblanc's gentleman thief. Both Odasaku and Dazai at the time were members of the Port Mafia; it was Odasaku's untimely death that eventually convinced him to switch and join the Agency. Unlike Dazai, Odasaku always saw and hoped for the best, and it was out of respect for him that Dazai decided to move to a group that might better carry out the sort of mission his friend asked him to: the side that saves people. Even though he is dead at the beginning of the series, through flashbacks, we get an excellent idea of who he was as a person, and in season three, we see that Dazai frequently visits his friend's grave. If anything is keeping Dazai from killing himself, it's probably this, and those who want to explore a different angle of the tragedy should read the alternate universe story BEAST.


ⒸKafka Asagiri・Sango Harukawa/Kadokawa/Bungo Stray Dogs Production Committee

The Book is one of the most important pieces of the puzzle that we have so far. While we don't know everything about it, it is probably sealed somewhere in Yokohama, which brought about the advent of the Guild in season two. Later we learned that The Book is a blank novel capable of making anything written in story form in its pages into reality; needless to say, this makes it attractive to a lot of people who want to use it for their own, possibly nefarious, ends. Both the Guild and the Rats in the House of the Dead staged their actions in Yokohama because of The Book, and it is possible that the alternate reality story BEAST that I mentioned before also exists because of The Book. After all, it exists to allow for the possibility of seeing what might have been, although, as any author can tell you, just because you want to write something doesn't mean that the story will go in the direction you intend. In any case, it seems in Yokohama's best interest to keep The Book out of the hands of anyone who would use it, although the thing about books is that pages can be ripped out.


ⒸKafka Asagiri・Sango Harukawa/Kadokawa/Bungo Stray Dogs Production Committee

Another major event to be aware of is the Arahabaki Incident. This took place well before the main story and primarily shows the ability of outsiders to infiltrate Yokohama organizations and why Dazai and Chuuya's relationship is the way it is. It involves secret government projects and the slums of Yokohama, but perhaps most significant is that it was spearheaded by French agent Arthur Rimbaud, who became a member of the Mafia under the alias Rando. Essentially the Arahabaki Incident foreshadows the events that happened later in the series. While we may not see exact repercussions, it's essentially the ripple built into the wave rushing toward the shore. There's also a case to be made for the events of the Dead Apple movie (The Dragon Head Incident) to be folded in with this as foreshadowing; this is less certain because the film was kind of its own thing until a novelization was released after its debut. Still, it is hard to deny that these incidents inform Dazai's character and actions and are part of his overall evolution.


ⒸKafka Asagiri・Sango Harukawa/Kadokawa/Bungo Stray Dogs Production Committee

Perhaps the final thing to be aware of is the role of the government in all of this. I mentioned Ango Sakaguchi earlier, he has been working with a governmental agency that monitors ability users for quite some time, and his personal relationship with Dazai is ultimately very important, even if he tries to keep himself emotionally distant to best do his job. Ango has been involved in the events of the story's arcs since the Arahabaki Incident, and despite his role as a spy, he did feel true friendship for Odasaku and Dazai. In some ways, he functions as the inside man, an ally more than a neutral third party who provides the Agency with a bit of a safety net, albeit one that isn't guaranteed to be there when they jump. Most importantly, the government is involved in pretty much everything that's been going on, even from a bystander position. That they attempt neutrality but are willing to take out ability users if they deem it necessary makes them unreliable. But with the tangled web of loyalties in the world of Bungo Stray Dogs, that feels like par for the course.
With its extensive source material and the anime's ability to combine light novels and manga into a single narrative, Bungo Stray Dogs is frankly a lot. But whether you're in it with all the trivia about the authors or just for the exciting story and characters without historical context, it's absolutely worth getting into. Hopefully, this has helped you refresh your memory ahead of the new season, and if you're so inclined, I recommend picking up both types of books. Just as characters never die, authors never do either as long as their words are still being read. Bungo Stray Dogs takes this statement more literally, and you'll enjoy where it's headed next.
---
Disclosure: Kadokawa World Entertainment (KWE), a wholly owned subsidiary of Kadokawa Corporation, is the majority owner of Anime News Network, LLC. One or more of the companies mentioned in this article are part of the Kadokawa Group of Companies.

News Summary:
Skimming Through the Pages: A Quick Refresher on Bungo Stray Dogs
Check all news and articles from the latest ANIME updates.
Please Subscribe us at Google News.
Denial of responsibility!
Theinspi
is an automatic aggregator around the global media. All the content are available free on Internet. We have just arranged it in one platform for educational purpose only. In each content, the hyperlink to the primary source is specified. All trademarks belong to their rightful owners, all materials to their authors. If you are the owner of the content and do not want us to publish your materials on our website, please contact us by email:
[email protected]
The content will be deleted within 24 hours.