What is arguably one of the most loaded seasons of anime is coming to a close. Our editorial staff had the unenviable task of picking their favorite series of the last three months in a season that included Bleach, Mob Psycho 100, Chainsaw Man, Gundam, and several under-the-radar anime that proved you can't count out the little guys. Here are the series of the season recommended by our editorial staff (and the ones you should probably avoid). Note, the commentary below may include spoilers.
Best: Chainsaw Man
Sometimes the hype is justified.
Look, I get that Chainsaw Man, especially in the early run of chapters that MAPPA has adapted for this first season, might not be the paradigm-shifting Savior of Shonen that some people might have been expecting based on this anime's astronomical levels of buzz and fandom fervor. Even at its absolute best, I don't think that the Chainsaw Man is my absolute favorite work of fiction across any and all mediums. It is, however, really goddamn good.
Naturally, the results are pretty spectacular when you put it in the hands of some of the anime industry's finest craftsfolk. I've been obsessed with movies for as long as I can remember, and I was in love with Chainsaw Man's anime adaptation the moment I realized that it was going to leverage nearly every trick of the trade to make a television production feel like a cinematic event. Denji was already a loveable and excellently written protagonist, his fellow Devil Hunters made for one of my favorite supporting casts in the business, and Tatsuki Fujimoto's absolutely bugnuts storytelling had already worked its way into my brain like some chainsaw-strapped parasite. When you take everything I already love about CSM and make it one of the most exquisitely produced works of TV animation I've ever seen? Well, you get the best anime of the fall season, hands down.
Runner-Up: Akiba Maid War
While Chainsaw Man ran for the top spot of the fall unopposed, choosing a runner-up was borderline impossible. I don't know if y'all have heard, but these past few months have given us an insanely stacked ballot; it might end up being a season for the anime record books. Thankfully, literally hours before I sat down to write this list, Akiba Maid War dropped its devastating penultimate episode, and my choice became much easier.
It was one thing when Akiba Maid War consistently made me laugh every week with its straight-faced delivery of the whole "a bloody yakuza mob movie, but with cute maids" gag. In its final third, though, the story has managed to take the more dramatic, heart-wrenching story beats of famous yakuza melodramas and play them so straight that the show managed to get me to shed a tear or two. Yes, the series is still just cribbing the same exact plot beats you'd find in any of Kazuma Kiryu's adventures. Still, its execution is so on point that you never mind the lack of originality. Akiba Maid War succeeds both as a parody of gangster melodramas, as well as an earnest entry into the mob drama canon. In the words of the immortal poet, Charlotte the Spider: That's some pig! Moe moe kyun forever.
Worst: To Your Eternity Season 2
A lot of shows would fail to live up to the standards of their peers in a season this good, but the second season of To Your Eternity would have been a massive disappointment, no matter the competition. Don't get me wrong; this isn't a terrible anime. Still, when I think of how much potential the saga of the immortal Fushi had at the beginning of its run versus the inconsistent and often maddeningly mediocre product we have now, I start to feel sad.
There's still power in the world that author Yoshitoki Ōima has made. I'm still kinda-sorta invested in where Fushi's long and winding journey will take him, but man, the anime adaptation of To Your Eternity has managed to squander so much of the goodwill those early episodes built up. To Your Eternity Season 2 is often even uglier looking and more shoddily directed than the worst episodes in Season 1. On top of that, many new characters (such as Bon "Tasty Peach" Uralis and his soul-crushingly irritating little sister) feel ripped from a completely different—and much less entertaining—story. At this point, I'm sticking around with To Your Eternity because I'm getting paid to do it, which is a sad state of affairs for a show that I once thought could rank among the best fantasy anime of recent years.
Best: Raven of the Inner Palace
I settled on Raven of the Inner Palace as my best several weeks ago. The story is an intriguing supernatural take on the Chinese court drama formula, blending a mild romantic subplot with its own particular mythology. The world-building makes this show unique—it does not draw from any recognizable world mythology (of Chinese origin or otherwise) but is close enough to many to feel organic.
The series is an excellent application of the episodic structure because each mystery Shouxue solves has its own tragedy and contributes to the greater storyline, which is the origin and truth of the Raven Consort position. The animation may not be exquisite, but the art itself is beautiful and consistently includes meaningful touches, such as the way that the disintegrating clay form of the Magpie Consort's brother appears to be weeping as he falls to pieces and the use of two-dimensional puppets for telling tales of the past. It is impressive that the lyrics of the opening theme do not become truly meaningful until episode twelve, indicating that we have been getting hints all along without quite knowing how to put them all together. Raven of the Inner Palace is simply a well-told story and the one I have looked forward to the most every week.
Runner-Up: IDOLiSH7 Third Beat!
Not since GeGeGe no Kitarō have I been so invested in a series watched by roughly 1/8 of this site's readership. But IDOLiSH7 continues to be better than any game-based boy idol show has a right to be: the characterizations and the care taken in telling the story are remarkable.
In this third outing, characters and their relationships change in ways that make you reevaluate your feelings about them. TRIGGER's fall from a seat of power in the idol world this season allows for the story to mirror its first season when IDOLiSH7 was starting as a group. We can disagree with the characters' motivations, but the show also gives us enough context to understand why they make their choices. Even this season's villain is clearly just a person making his own choices based on his own experiences, which is some impressive storytelling for an otherwise utterly cartoonish character. Add in some catchy music, and you've got a show that knows how to make things work.
Most Disappointing: Shoujo/Josei Light Novel Adaptations
Raven of the Inner Palace may be the exception that proves the rule this season because the other two female-oriented light novel adaptations did not fare well. While I did enjoy both I'm the Villainess, So I'm Taming the Final Boss and Bibliophile Princess, neither did their source material any justice, which is incredibly frustrating. Also unfortunate is that they've managed to mess up in entirely different ways. In the case of Bibliophile Princess, the anime version removed almost all of Elianna's interiority, rendering her a wide-eyed wispy-voiced blank slate. This takes the wind right out of the sails of the story, rendering it far less than it is in novel or manga form.
I'm the Villainess, So I'm Taming the Final Boss, on the other hand, attempts to cram three novels' worth of story into 12 episodes. That isn't a deal-breaker, but it's worth mentioning that the source novels for this series are pretty dense and that a lot happens on every page. Things generally unfold the same way they do in the books, but we don't have time to enjoy them, appreciate Aileen as a character, or understand Claude's feelings. For that matter, we don't get to understand Aileen's feelings either; everything appears to dawn on her spontaneously, but in reality, there's a lot of thought going on in her head. It becomes an outline rather than telling a story, which is a worse offense than even how they draw and animate horses in this show.
I'm not a die-hard adherent to the idea that the book is always better than the adaptation, but in both of these cases, if you liked the story at all, do yourself a favor and pick up the books.
Best: The Eminence in Shadow
The Eminence in Shadow is an amazing dark comedy. It's the story of Cid, a boy from our world reincarnated in a fantasy world filled with magic. There, he acts out as his favorite character trope, the leader of a mysterious organization protecting the world from the shadows. He knows there's no evil cult trying to resurrect demon lord, and it's all just LARPing…except it's not. Everything he made up is true. While he thinks it's a game, he actually is The Eminence in Shadow he pretends to be. That's the joke that permeates every layer of the story.
But what truly makes this dark comedy great is that Cid is legitimately insane. He has no problem killing people, "pretending" that they were cult members (which they almost certainly were), and spending excessive amounts of money so that he can say cool, cryptic lines in the correct atmosphere. Yet, strangely, he finds his "Clark Kent" persona just as important as his "Superman" one—to the point that he's willing to be friends with the most pathetic people around and experience brutal torture (if the story cliché is set up correctly, anyway).
This makes Cid a mixture of silly, over-the-top, and terribly lame. And yet somehow, at the same time, there are moments where he really is as cool as he pretends to be—which makes the series even funnier. If fantasy and dark comedy are your things, you've got to give The Eminence in Shadow a watch.
Runner Up: Mobile Suit Gundam: The Witch From Mercury
There's a reason that the Gundam franchise is still going strong 43 years after the first series went on air: the power to reinvent itself. Oh sure, the classic framework is still there: a teenager piloting an advanced giant robot while dealing with their own large helping of personal drama. However, what sets this one apart is that not only is our "hero" a heroine but that the series' first arc is an homage to the 1997 classic Revolutionary Girl Utena as well—to the point where the first episode is a beat-by-beat reimagining.
Within this school setting centered around dueling where a "princess" is the ultimate prize, we get the coming-of-age story of a socially awkward girl working to make her first friends. But beneath all this is the constant hum of looming dread. The world itself is not as kind as Suletta believes it to be. And while there are real stakes to the duels she fights, it's apparent that we are witnessing the calm before the storm. It is this ever-present tension that keeps you coming back week after week.
Most Disappointing: My Hero Academia Season 6
I'm a big fan of My Hero Academia. It won me over early on, and I've been on board ever since. And while some arcs have been weaker than others, I've always been satisfied by it. Season 6, however, changes all that.
There are two main problems I have with this season. The first is the pacing. The vast majority of the season is one long battle across multiple locations. Every clash we witness is a life-and-death struggle for our heroes and villains—with each fight nothing but reversal after reversal. The tension is so intense and constant it's frankly exhausting to watch.
The other (and far more subjective) issue is suspension of disbelief. I am willing to suspend my disbelief for as long as a work of fiction follows its own established rules. The problem is that this season does not follow its most basic one: that "quirkless" humans are the same as you or I. Instead, we have a human with no superpowers jump hundreds of feet in the air and punch the air so hard he can dodge fire blasts, explosions, and people moving at superhuman speeds. And while the show uses the excuse of "genetic alterations," this character's muscle mass is the same as an average teenage athlete. Frankly, I don't buy the whole concept, and this turned the season's multi-episode climactic battle into a long series of eye rolls and exasperated sighs on my part. The sooner we move on from this arc, the happier I'll be.
Christopher Farris
©Akiba Maid War Committee
Best: Akiba Maid War
Parody, homage, pastiche; all these derivative elements of stories we know and love can be fun in the moment, but when they're used for something beyond Leo-DiCaprio-pointing-meme recognition, they take on real value. Maybe I should walk that back—any attempt to take Akiba Maid War seriously only undermines its actual efforts at entertainment, and the show's quality even dips whenever it tries too hard for actual-factual pathos.
What Akiba Maid War truly represents is a celebration of entertainment: anime, campy crime thrillers, and the performative experience of maid cafés. The series itself is entertainment worth celebrating. It's got one of the most strongly animated MMA fights yet seen in the medium. It's got gleeful adherence to old-school mob movie tropes that should make any seasoned Battles Without Honor and Humanity fan shed some manly tears. It has an episode where a bunch of maids play baseball. It has a panda. But more than that, Akiba Maid War has a point: If you just earnestly put your entire maid-outfitted ass into something, you can come up with a fun result that's worth doing with all your friends, your family. That is the essence of maid café moe. That is Akiba Maid War.
Runner-up: Bocchi the Rock!
What's most remarkable about Bocchi the Rock! is that it turned out way different from what I expected. A four-girl ensemble Manga Time Kirara adaptation conjures up a particular image. While plenty of fluffy conversation antics are at the center of Bocchi, everything else around it proved unique to its identity and appeal. Depictions of social anxiety are nothing new these days, but the way the anime goes all-in on illustrating Bocchi's issues on the precise border of hilarious and sympathetic, with some of the most outlandishly-experimental comic animation this side of Kaguya-sama, is truly something to behold.
Any series about music is going to benefit from the addition of sound and movement in the hands of a halfway competent director, but Bocchi goes far beyond that. It's a story that takes simple comedic character types like introverts and extroverts and expands them with genuine insight. I can't think of many other series that would take the gag of Kita "accidentally" submitting Bocchi's application to play in the school festival and turn it into a heartfelt moment of vulnerability and connection. Bocchi the Rock!, alongside Do It Yourself!! from this same season, demonstrates the broad horizons of girls-in-a-club anime. Bocchi more than deserves all that fame and attention she was originally so desperately in search of.
Worst: Housing Complex C
All that good anime this season hardly left me time for lousy anime, but "thanks" to my TWIA duties, I experienced this Halloween hack job. The most remarkable thing about Housing Complex C isn't that it's not scary. Plenty of attempts at horror fail to be frightening but at least provide some insight into the creative vision or deliver some conceptual interest. Housing Complex C mostly feels like it has no idea what it's doing.
Being only four episodes long, you'd think the powers-that-be at Adult Swim could've just come up with a decently paced movie of a story and chopped it up into a four-week event. But instead, this tale of dollar-store Deep Ones drags its feet for an hour-and-a-half of meandering setup before blowing it all up at the end with some goofy gore it expects us to be impressed by.
The worst part is that Housing Complex C doesn't commit to being dumb enough to work as compelling schlocky entertainment. Still, it needs to be more clever to deliver a well-constructed mystery that hinges on respecting the audience's intelligence. That anyone saw this finished product and had any confidence in it is the scariest part of this thing to me.
Best: Mob Psycho 100 III
I can't believe we got three whole seasons of Mob goodness without the slightest dip in quality or the merest morsel of compromise. This is an anime that came, saw, and conquered entirely on its own terms, and it did it all for the sake of extolling the strength of kindness. The final stretch of Mob Psycho 100, thus, is both a great survey of the series' strengths—the dumb humor, the cartoonish style, the Reigen thirst traps—and a wonderful conclusion to the narrative and character arcs. We get stunning examples of psychedelic action bombast alongside patient observations of teen angst. The best episode of the season is about bug-eyed aliens from the K-ON! dimension. This is an adaptation that transformed its source material into something beautiful, unique, and still utterly faithful to the spirit of the work. We've been spoiled with a smorgasbord of incredible manga adaptations this season (Chainsaw Man, Bocchi the Rock!, Pop Team Epic, etc.), but Mob is the ruler they're measured on.
Runner-Up: Akiba Maid War
I rarely get to gloat about a called shot, so allow me to indulge in a moment here. I put Akiba Maid War on my list of most anticipated titles for this season, based solely on vibes and its baffling trailer, and now I can happily add it to my list of favorites. I couldn't even guess what the show would be about, but I would never have anticipated a deadpan pastiche of yakuza films. And it's a good pastiche too. Bullets and blood first fly freely against the frills and moe-moe facades of maid café subculture, while the later chapters indulge in noir-tinged moodiness and the deadly politics of organized crime. It's a dumb joke that should have run its course in a single episode, yet the anime's sincere and utter commitment to the bit carries it all the way to twelve triumphant tales of revenge, omurice, and baseball. It's basically the anime equivalent of the Yakuza video game series, awash in both goofiness and love for the genre. It's a parody that surpasses most straightforward attempts at this stuff. The finale alone had me laughing at its jokes, whooping at its ultraviolence, and tearing up at its tragedies. Nothing about this tonal potpourri should work, but it does, and that's why it belongs at the top. Moe moe kyun. Forever.
Runner-Runner-Up: Do It Yourself!!
I'm supposed to write up my worst anime of the season here, but I legitimately cannot do it. I didn't watch enough of a single bad show to call it out here. Usually, I cover at least one for This Week In Anime, but no such (bad) luck this time. I even enjoyed this autumn's off-putting CGI Netflix original anime, Exception. Instead, there were too many excellent anime airing—enough that I could easily double the length of this already extended list and still feel bad about leaving one or two out—so forgive me for highlighting one more winner. And that winner is Do It Yourself!!, an infectiously charming animated love letter to the tactile pleasures of screwing One Piece of wood to another. As a hobby anime on the iyashikei side of the spectrum, DIY is teeming with pleasant fuzziness and a cute cast of characters. But what really sets the anime apart is its style, messaging, and how the show marries the two of them together. The style is a two-pronged feat, defined by loose and expressive character animation alongside the precise realism of its technical diversions into its projects' minutiae. However, in tandem, they work to reinforce a story about the importance of hands-on human work amid technological acceleration. It's a deft balance of silliness and seriousness. It's also a story about the most tsundere character of the past decade, taking twelve weeks to admit that she likes making cute crafts and secret treehouses. I don't know if it's the most satisfying character arc of the season, but it's up there. And it's worth giving DIY a shot if you're in the mood for something that's both comfy and unafraid of power tools.
MrAJCosplay


© Tatsuki Fujimoto/Shueisha • MAPPA
Best: Chainsaw Man
This certainly has been one of the most enjoyable seasons of anime that I've experienced in quite some time. There was so much to enjoy, from old shows returning with a new coat of paint to much-anticipated adaptations of popular franchises. Almost half the shows that came out this season could be considered some of the best, but I have to go with the relatively easy answer of Studio MAPPA's adaptation of Chainsaw Man. I marathoned the Chainsaw Man manga within two days a few months ago and immediately understood why it grew in popularity the way that I did. Tatsuki Fujimoto's almost cinematic approach and uniquely timed character interactions created a show that was equal parts cynical and endearing. Many of those elements were inherent to the manga medium, which made me curious about how they could be adapted into a completely different medium like animation. While some things didn't hit as hard as they did in the source material due to that transition, what was added to the adaptation more than made up for it. From incredibly expressive and powerful voice acting to much moodier yet emotional camera work, the Chainsaw Man anime adaptation retains the original's overall spirit, just through a different type of cinematic lens. The people working on this carry a similar passion for filmmaking and insight as Fujimoto. Scarcely do we get an experience that feels both fresh yet familiar at the same time, and because of that, this felt like a series that met the huge expectations placed on it.
Runners up: More Than a Married Couple, But Not Lovers
Some people are probably going to laugh at my suggestion here. Heck, I wanted to laugh when I first heard about this show and merely requested to review it because I was expecting it to be a dumpster fire. While there are elements of the show that I think are very dumb and alienating, like the rather involved fan service and the idiotic premise, I would be lying if I said this wasn't one of the shows I looked forward to watching the most every single week. While the premise is dumb at best and problematic at worst, More Than a Married Couple, But Not Lovers squeezed as much character development and romantic momentum out of this setup as it could. I was surprised at how many genuine moments were about characters dealing with projected expectations, deep-seated insecurities, and believable sexual tension that felt appropriate for awkward teenagers. I've seen more character growth and romantic progression born out of genuine character motivations in these 12 episodes than in many romantic comedies of the past couple of years. While I definitely wouldn't put this amongst my favorites, I was still pleasantly surprised at how drawn in I was and felt like this show is a textbook example of not judging a book by its cover.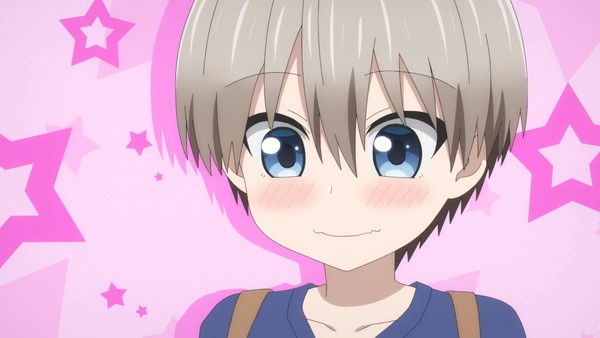 Worst: Uzaki-chan Wants to Hang Out! Season 2
I was fortunate enough not to necessarily watch any shows this season that I would categorize as "bad." Still, Uzaki-chan Season Two was the least good show I watched. Coming off the heels of the popularity of season one, what frustrates me about the sequel is how the few moments of good writing and character reflection take place in a season bogged down by vast gaps of absolutely nothing. During this season, the overall cast expands. While almost every new character introduced directly or indirectly feeds into our two main leads trying to slowly figure out that they're made for each other, their introduction also felt like an excuse for the show to stall out. Some episodes spend half of their runtime dedicated to one joke or punchline. Other episodes could've been removed whole cloth and not have had any overall impact on the series. The show is just as much a comedy as a romance, and while I found that a lot of the humor had grown stale by this point, others might've seen it as engaging as season one. However, my frustration comes from the fact that there were a good handful of moments that showed a lot of potential to move the romantic relationship between our leads forward in compelling and believable ways. When we got to those points, I was invested and incredibly thankful because it felt like my investment was being validated. However, by the end, I can't deny that my patience was stretched to the absolute limit since the season's lows were a bit too frequent compared to its highs.
Best: Bocchi the Rock!
There was an embarrassment of riches this fall, and you could justifiably pick from any of the unique, memorable, and altogether fantastic shows when deciding on a top spot. But from almost the beginning of the season, there was only ever one choice I was going to make for my Best Of pick. Bocchi the Rock! is the kind of production that's not just tailor-made for my tastes but one delivered with so much passion and creativity that it feels like the people making it were indulging in their predilections just as much as I was. There's so much heart put into it, from the lovably relatable anxiety of its heroine to the harsh but genuine self-deprecation that drives so much of its humor to the constant creativity in its visuals. It's a show where everyone involved wanted to make something special, and they succeeded with flying colors.
But what really put it over the edge for me was its abiding love for music – not just music itself, but the culture and lifestyle around it. I haven't seen something capture the energy and emotions of small-time band life this well since BECK: Mongolian Chop Squad, using the power of animation to form a perfect impression of the sweeping power of a live show. But it pays just as much attention to depicting record stores, recording equipment (shout-out to Bocchi's Scarlett 2i2), and the instruments themselves. It all builds up to show the series isn't using music as a gimmick to set itself apart, nor as a cynical way to sell CDs along with the Blu-rays, but instead wants to express its love for the art in as many ways as possible. It's something special, and if you watch only one show from this season, bet on Bocchi.
Runner-Up: Akiba Maid War
Now this one really was a toss-up. I was debating plenty of other titles for the silver medal spot, but I eventually decided this series deserved a bit more recognition. Akiba Maid War is ridiculous, insane, irreverent, cynical, and loves hyperviolent slapstick. And somehow manages to take all that energy and make one of the year's most consistently funny and consummately watchable shows. It takes all the genre-bending goofiness of Birdie Wing's golf mafia, combines it with a scathingly frank depiction of otaku culture, and makes for the world's bloodiest sitcom about a group of goofball misfits failing upwards in the dangerous world of Maid Café Organized Crime. Any given episode could be enthralling in its brutality, debilitating in its hilarity, and occasionally outright touching in its own bizarre way. If that doesn't sound like a good time to you, then you need to do some soul-searching and perhaps let the power of Moe and Violence into your heart.
Worst: Housing Complex C
I was struggling with what to put here. I don't like doing entries where the "worst" is the most average thing I watched, but I was very close to that. Until I remembered I had, in fact, sat through this mini-series. Which I think should tell you why it's here. I love horror, and every year when October comes around, I enjoy watching spooky, scary, or just plain gory media to get in the mood for the season. But for as much as I love a well-done horror story, nothing bums me out or makes me tune out quite like lousy horror, and that's all this Lovecraft-inspired production has to offer.
It's not scary, which is already an irreparable problem, but the more significant is how dull and predictable it is. Even with only four episodes to work with, countless red herrings and misdirections are meant to pad out a thoroughly uninteresting mystery. Countless characters and plot beats go nowhere but take up way more time than they need. And it all culminates in a convoluted series of twists that can only be explained through some of the most painful, graceless exposition in recent memory.
And that's all terrible, but the real kicker is just how derivative it is. We live in an era rife with Lovecraft-inspired horror, where new creators can take that crusty old racist's ideas and turn them into stories that are as disturbing as they are profound. But every single twist and scare in this show is so painfully obvious and telegraphed from miles away that you'd essentially have to have never seen a horror movie to be taken aback by any of it. It's a total mess but doesn't even have the courtesy to be interesting in its messiness, and I'm going to try my best to go back to forgetting it as soon as possible.
Best: JoJo's Bizarre Adventure: Stone Ocean
I've always had a weakness for transgressive female characters, and Fall 2022 truly gave me some of the best eating this side of The Woman Called Fujiko Mine. However, while this feast made me a very busy and happy anime viewer for the last three months, it has also made this job of picking the so-called "best" inordinately hard. Would I go with Witch from Mercury, which takes narrative cues from my all-time favorite series Revolutionary Girl Utena? The new interpretation of Urusei Yatsura and its iconic heroine? Or maybe even go with a dark horse series that I am almost positive nobody else will pick, The Little Lies We All Tell? I thought long and hard, and suddenly, it's 9:30 pm on the night of my deadline, and I'm no closer to choosing. I have to go with my gut, and my gut keeps crooning that damn Dolly Parton song.
I've already written a lot of words about JoJo's Bizarre Adventure: Stone Ocean, including two reviews, so I need help finding something new to say. It brings Hirohiko Araki's epic to a brilliant close, with the bold choice to feature a daughter instead of a son in the conclusion to a generation-spanning story. I adored Jolyne instantly, and as the episodes passed, my heart grew to accommodate each and every member of her prison posse. It is at times frustrating, especially with at-times nonsensical fights and limited animation, but seeing Jolyne grow from a scared teen to a powerful young woman willing to do whatever it takes to protect her loved ones and finally end the battle between her ancestors and the looming shadow of DIO tore my heart open more than anything else. Under the surface, the story tackles topics like trauma, state violence, the loss of body autonomy, and racism.
When I declared Stone Ocean Araki's magnum opus, many manga readers scoffed about how it's nothing compared to Steel Ball Run. I'm sure Steel Ball Run is really good and all, but to me, Stone Ocean is nothing short of a triumph.
Runner-Up: Akiba Maid War
With all the time I've spent muttering "Tontokoton" under my breath, how could I not give Akiba Maid War the runner-up position? Seriously, try it. It's so fun to say.
I knew from the trailers that Akiba Maid War would be wild, but nothing could have prepared me for a mashup of maid cafes and yakuza gangland-style warfare. While nothing ever really topped the first episode's ultraviolent musical sequence bouncing between Yumecchi's song and dance in the café and Ranko's brutal murder of every single employee of the rival maid café, every episode brought a new absurdity and with it, a new delight. I don't engage much at all with yakuza media and have a general distaste for the moe-industrial complex. Still, the grit and cuteness played off each other in a way that made for something totally unexpected. And maybe there are themes? Given time I could probably piece together some thesis statement about this being a commentary about culturally mandated cuteness being a subtle form of violence but really? I'm still marinating in that last episode, and for now, I'm happy to award it second place for being unfailingly clever, laugh-out-loud funny, and just sincere enough for me to care by the end.
Worst: I'm the Villainess, So I'm Taming the Final Boss
Unfortunately, not all series with transgressive heroines served them well. I'm the Villainess, So I'm Taming the Final Boss took a clever spin on the growing villainess genre and wholly squandered it with a half-hearted production that would make its protagonist hang her head in shame. When I read the manga, I was impressed with how cleverly it took the genre tropes and spun them into something unique. Aileen's recovered memories didn't rewrite her personality into someone kinder or more pleasant. She ended up being perceived as villainous because her ambition and calculating nature made others think of her as self-serving, which struck me with its parallels to how society regards women in real life. However, there was an unshakeable feeling that nobody in the production actually gave a shit about the series they were making. The script was perfunctory, and the stiff visual direction refused to make up for the writing's shortcomings. I pushed through the first overstuffed arc and three-quarters through the second but realized I wasn't having fun. With a heroine like Aileen, a romance like hers and Claude's, with a narrative point-of-view and a – dare I say it? – feminist-aligned worldview, I should have been having a lot of fun! But I wasn't, so I dropped it. Maybe I'll give the novels a try.
Monique Thomas


© Tatsuki Fujimoto/Shueisha • MAPPA
Best: Chainsaw Man
Hell yeah, Chainsaws!! I can't even describe how happy I am with the amount of quality pouring out of this anime. It satisfied all of my expectations in terms of presentation. A solid, well-paced, well-animated, and well-scored adaptation of one of the best shonen manga in years. The amount of creativity on display feels like I'm watching something bursting out of the artist's head, like how the blade splits Denji's teenager horny-for-brains skull. It's unbelievable how much it feels less like anime and more what you'd expect from prime-time TV in terms of atmosphere and direction. The opening animation's love letter to moments in known filmmaking denotes a perfect mix of playfulness and aspiration of what the minds involved are trying to achieve. While the unique ending themes following each episode serve as quirky showcases featuring the series' lovable cast of devils and devil hunters and highlighting aspects of the plot. From Power's cute dress-up sequence to Denji's retro dating-sim life to homages to M.C. Escher paintings, all act as trimming to Chainsaw's eccentric blend of trashy and artful, fantastic and real, beautiful and grotesque view of the world.
But the most satisfying thing? That's seeing soooo many people, even those who don't usually talk about seasonal anime, discussing Chainsaw Man. It's been a while since an anime has felt so much in the public eye. I mentioned in my Most Anticipated for Fall that we were overdue for rain, and Chainsaw's endless blood shower watered mine (and everyone else's) crops, so to speak. To top it all off, fall was an incredibly bountiful season. So not only did I get to see people talk about Chainsaw Man, I got to see them psych'd about Mob, headbang to Bocchi the Rock!, build with DIY, and laugh/scream/cry over Akiba Maid War. A perfect storm of lovely shows deserving of attention. One that felt only possible because Chainsaw Man stirred everything up as the main attraction. I saw a downpour of passion from both creators and fans alike. It's enough to sustain for a long time. Draught seasons will continue to happen so long as we can feast together every once in a while; I'll survive.
Runner-Up: Pop Team Epic Season 2
Speaking of straddling the line between being trashy and artful, what kind of heathen would I be if I didn't bring up everyone's favorite "kusoani"? Pop Team Epic has always held a special place in my heart. The first season's brand of odd and crude humor tickled me. It's just stupid enough that I don't feel like I lose anything if a joke doesn't land but also risky enough that I can hold a genuine appreciation for what it's going for. Besides, something about Popuko and Pipimi's cute little smiling faces makes me feel all warm inside regardless of what havoc they wreak week-to-week. When consulted, my doctor told me those were all just symptoms of my acid reflux and that I should be cutting down on my consumption of junk anime, but I don't see the problem with having a little bit of brain-poisoned meme-fueled trash shorts. Y'know, as a treat?
Pop Team Epic Season 2 shares all the same boldfaced "no shits given" attitude of season 1, but I feel like S2 kicked it up in a few places by bringing in more guest artists, more deep cuts, and even more Shōta Aoi. S1 provided the formula, and S2 rolled with it. This new version of Pop Team Epic feels comfortable knowing when to stick to its guns and when to deviate before something becomes too standard. PTE has been one of my favorite series to tune in to weekly simply because I never knew what to expect. Like CSM, there have been zero weeks where I didn't see a reaction from somewhere. There's always at least one gag per episode that decides to go the extra mile to deliver the jokes and at least a couple of other segments that stick with me whether they make me smile, laugh, or tilt my head and stare off into the distance to think about what I just watched. Ultimately, PTE is not something to be underestimated, and that's why it's a top contender.
Worst: Housing Complex C
I want to have you all know that I spent maybe about a week wondering if I had anything bad or disappointing that would fit the potential "Worst" pick but came up only with nice, pleasant shows that all met or exceeded my expectations in some way. I was going to get creative with this one. Usually, I end up with at least one Netflix original or show with a terrible budget to put here. Still, I didn't have time for anything that felt low-quality, and even Netflix's offerings impressed me. That's not to say that every show I watched was perfect, but there were so many unique and lovely ones that kept their flaws well-balanced with their strengths that I would've felt bad trashing one of them or having to find something so that I could write it up. I prefer my bad watching to be somewhat organic.
Then, one night, after spending another couple of hours in front of a blank screen, I turned in early and went to sleep. There, in my dreams, lying within my subconscious, I felt it. Something dark and twisted reached out to me. Like an ancient (4 months) memory I had suppressed suddenly awoken. Something so utterly bad and boring that I forgot about it even when I was doing all my preparation for this! Granted, my increasingly fuzzy memory is the real culprit there (it happens during the holidays). Still, the real problem is that no part of me wanted to remember the (lack of) horror contained in Housing Complex C. I would rather Cthulhu brainwash me than let this four-episode Adult Swim co-pro break my fantasy of everything being right with the state of anime, but eventually, the truth must surface like a dead fish in water.
The truth is that, hey, I'm still not impressed with many of these co-productions. Even something like Housing Complex C, which has the potential to be an interesting short horror series in concept, needs more time and proper oversight. Now, being a little flawed isn't the end of the world, but horror is a genre unique for dependence on such execution and atmosphere. Housing Complex C's complete lack of vibes makes it hard to feel impressed by anything that it tries to do, even when it finally reveals its tendrils. It's a poorly paced slow-burn with pay-off with a mostly nihilistic conclusion. It's a dark spot on my almost-perfect anime record, and it will keep happening as long as there's a push for co-pros without giving everyone involved enough time and care for their production. It makes me relieved Uzumaki got delayed because I'd rather it'd not turn out like this.
Lynzee Loveridge


© Tatsuki Fujimoto/Shueisha • MAPPA
Best: Chainsaw Man
As I've gotten older, my appreciation of media has changed. It's harder to make me laugh and character arcs have to hit a certain level of relatable realism to convince me to emotionally invest. I'm also one of those people who doesn't have a "regular order" at a local restaurant. I don't like to eat the same things repeatedly (except saag paneer, you can't update perfection). I'm one of those weirdos that don't have a "comfort anime" setup and I tend to avoid media it feels like I've seen it before.
I have never seen a dude turn into a chainsaw before.
Chainsaw Man is my pick for fall because beyond all the memes of "Chainsaw Man go brrrrr," this series is an emotional and technical achievement that we rarely get the luxury of seeing in a weekly serialized format. You can absolutely watch it just for the spectacle. It has some of the best knock-down drag-out fights of the year, overflowing with absurdity and viscera. Denji vs. The Bat Devil is up there with one of my favorite episodes of the year purely for the "fuck yeah" factor (a real, IOC-approved voting system). If you set aside the impressive action set pieces and focus purely on the characters, few got me blubbering like Aki and Himeno, a doomed romance featuring a young man (and secret dork) bent on vengeance and his older partner who has enough baggage to make Misato look like a functional adult. We barely get to know Himeno before she makes her emotional exit, but even as she leaves Division 4 behind, her ghost continues to propel events forward.
Then there are the technical merits of the production which are, frankly, on another level. Chainsaw Man reinvigorated my opinion on how an anime could look. We get so many workmanlike productions for what I can only assume is a mix of lavish adherence to the source material and poorly allocated time resources. Chainsaw Man is oft cinematic when it could have skated by as perfunctory. Himeno's final moments hit like a ton of bricks. Aki's solemn cry in his hospital bed is human in its ugliness. There's an equal measure of creativity on display in its ending sequences, a flex that is almost criminal.
Runner-Up: Akiba Maid War
I expected absolutely nothing from Akiba Maid War during its premiere. The hidden cues in the trailer went over my head and I took it at face value: a show about a scrappy maid café of misfits. Hahaha. I mean, that's not wrong but I can't believe this show managed to play the whole thing straight for 12 episodes. Still, it could have easily shown its hand and still failed at comedic timing or overplayed the absurdity. Akiba Maid War is a success thanks to consistently great visual gags and tight writing that threads crime syndicate melodrama with 90s moe aesthetic. Ranko is easily one of my favorite characters of the season with a kill count higher than the Fuji Soft ABC Building.
If you still aren't sold on the whole premise of Akiba Maid War, just watch the baseball episode. It's the funniest thing I've seen in ages.
Worst: Nothing really.
I didn't watch anything bad this season, and by the looks of most of ANN's editorial submissions, it would have taken some effort. I could grouse about a few things, like the pacing and lack of big animation moments in the latest season of My Hero Academia or that I, personally, wasn't as emotionally moved by the ending of Mob Psycho 100 III as I hoped, but those are too minute of complaints to relegate something to the 'worst' of the season. There's always next time.
---
---
Disclosure: Kadokawa World Entertainment (KWE), a wholly owned subsidiary of Kadokawa Corporation, is the majority owner of Anime News Network, LLC. One or more of the companies mentioned in this article are part of the Kadokawa Group of Companies.
---
Disclosure: Bandai Namco Filmworks Inc., a wholly owned subsidiary of Bandai Namco Holdings Inc., is a non-controlling, minority shareholder in Anime News Network Inc.

News Summary:
The Best and Worst Anime of Fall 2022
Check all news and articles from the latest ANIME updates.
Please Subscribe us at Google News.
Denial of responsibility!
Theinspi
is an automatic aggregator around the global media. All the content are available free on Internet. We have just arranged it in one platform for educational purpose only. In each content, the hyperlink to the primary source is specified. All trademarks belong to their rightful owners, all materials to their authors. If you are the owner of the content and do not want us to publish your materials on our website, please contact us by email:
[email protected]
The content will be deleted within 24 hours.